Meet the man who continues to 'sharpen the saw'! Kishen Maharaj started his career as an engineering intern and slowly worked his way up the corporate ladder. Today, he is one of the most sought-after professionals in the field of Strategy and Transformation. What worked in his favor? How did he beat the odds to become the best in his profession?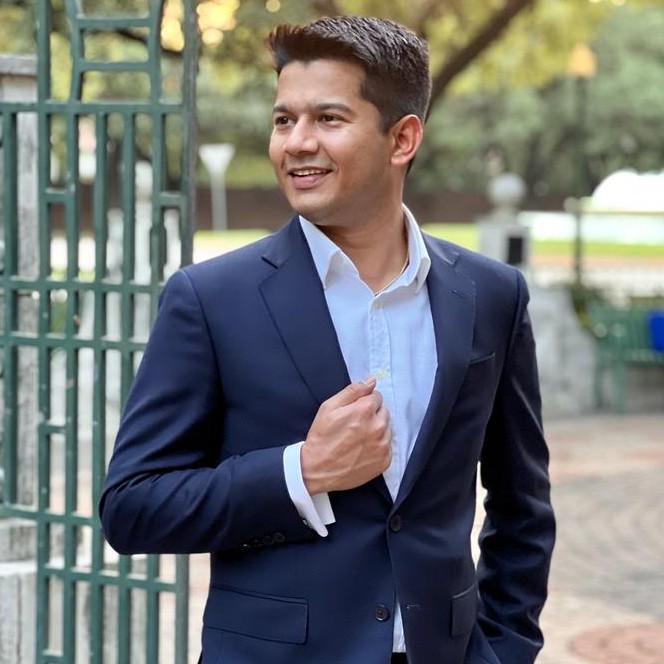 GLEAC got into an interesting conversation with this dynamic personality who is the Director of Strategy and Transformation at Valaris Limited. Kishen spilled the beans on his superpower soft skill, the pros and cons of a career in the Energy sector, and much more.
We bring this story straight from GLEAC's editor's desk to your screen. Read on!
GLEAC: If you had to explain 'Strategy and Transformation' to a 5-year-old, how would you do it?
Kishen: Let's say you wanted to have a really nice birthday party and have all of your friends come over to the house and celebrate your 5th birthday with you. What would you need to do?
First, you would talk to your parents and ask for the things you want in the party and then you would invite your friends. Strategy and Transformation works much in the same way.
Being able to work with your parents to define your goal of what the best birthday party is, having them plan the party with the help of an event organizer, and co-ordinating with your friends so they all can attend and enjoy is very similar to strategy. It's creating a goal and developing a plan with a team to accomplish that goal.
GLEAC: What is your superpower soft skill and which hard skills v/s soft skills are needed for your job?
Kishen: My ability to influence people is my superpower soft skill which I'm super proud about.
The hard skills needed for my job include but are not limited to business, operations, project management, analytical, and risk and change management skills.
The soft skills required are leadership, critical thinking, effective communication, and collaborative skills. When leading massive change programs, these soft skills tend to have an impact on various stakeholders. Being able to empathize with these stakeholders as you navigate important changes helps build trust and demonstrates the authentic leadership in action.
GLEAC: If a future version of yourself had to thank you for something you are doing right now that will contribute to your future, what would it be for?
Kishen: Continuing to sharpen the saw. For having never stopped learning, continuing to learn new skills, challenging my abilities, and always assessing the changes in demand for skills in the world of work and the way work gets done.
GLEAC: Which skills will those belonging to your sector have to acquire to become indispensable?
Kishen: Green skills. Understanding the green skills that make you effective in your role in the Oil and Gas sector and also understanding how you can effectively apply them to the renewables space to create value is key. The macroeconomic demand for energy continues to grow in the long term; however the energy mix is changing and being able to understand how you can pivot into new sectors and remain relevant will be a differentiator.
GLEAC: Every career has its pros and cons. What are the good and bad of a career in Strategy and Transformation?
Kishen: The good is that you get to work on some really fun projects and initiatives. You lead macro-level changes and get to work with some powerful teams and you learn almost everyday. You get to deliver high-value outcomes and that keeps motivation up. And what I like the most is working like a matrix manager and getting exposure to almost every element of the business.
The downside is that it can be long hours. If you are not careful, work-life balance could be compromised and your mental health could be the price you pay.
GLEAC: Strategy and Transformation can get rigorous. How do you keep up the mojo?
Kishen: I think the concept of energy boosters is key. Understanding the things that brings you joy and blocking time daily on your schedule to get it done is important. Whether it's walking your dog, going to the gym, or going for a ride on the bike – take time out to do it! It helps with mental health and gives you the stamina to keeep going.
The #GLEACMentorCommunity enables its mentors to network with like-minded individuals from over 47 countries through sharing knowledge, unlocking business opportunities, access to all of GLEAC's monthly events, and much more!
Interested in being part of our expert mentor community? Email us at: mentor@gleac.com or apply through this link.
For more awesome content from our other mentors check out our blog (www.gleac.com/blog). Visit at our website (www.gleac.com) and also for our NFTs head on over to Lovely Humans (www.lovelyhumans.io) to learn more!